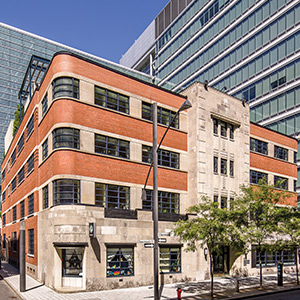 Le Méco
415, Saint-Antoine West
Montréal, QC
H2Z 1H8
Located at the heart of the Quartier international de Montréal, steps from the city's business core and Palais des congrès, as well as Old Montréal, the Méco building couldn't enjoy a better location.
And its proximity to Édifice Jacques‑Parizeau and vast pedestrian network constitutes yet another immense advantage.
The building's strategic location invariably adds to the prestige and quality of the relationships tenant firms are able to nurture with clients, suppliers and business partners alike. As for the building's occupants, they have the advantage of working near the gamut of services available in Downtown Montréal.
The Art Deco inspired design imbues the building with elegant charm. Its appearance adds distinction to the city's International District.
The large windows radiate light throughout the building and add sparkle to the quality of life of the occupants.
The Méco building is ideal for business people looking to grow their companies in a truly bustling environment.